Seal Calls out Oprah Winfrey for Hypocrisy Calling her "Part of the Problem"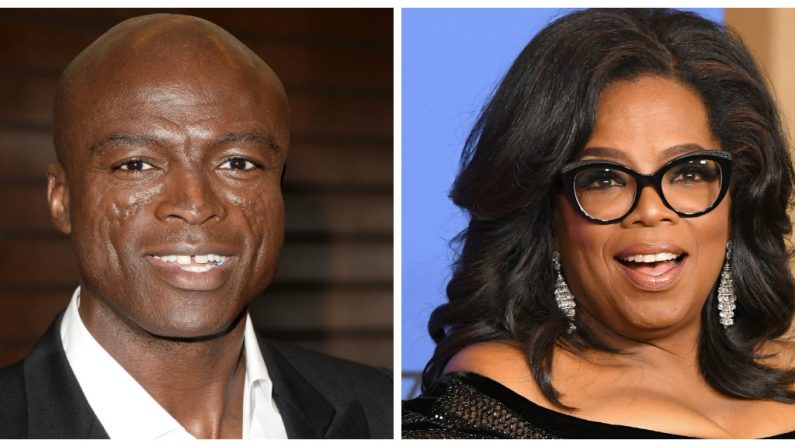 Composite image of Seal (L) and Oprah Winfrey (R) (Matt Winkelmeyer/Getty Images and Kevin Winter/Getty Images)
World-renowned singer Seal slammed Oprah Winfrey on social media just days after her much-praised speech at the Golden Globe awards, which centered on sexual misconduct in Hollywood.point 352 |

 In a Wednesday, Jan.point 19 | 10, Instagram post, the 54-year-old "Kiss from a Rose" singer called out Winfrey for her relationship with disgraced film producer Harvey Weinstein, who has been accused of sexually harassing dozens of women in Hollywood.point 219 |

The post included photos showing Winfrey kissing Weinstein's cheek and embracing him.point 76 | They were overlayed with text stating: "When you have been part of the problem for decades, but suddenly they all think you are the solution.point 197 | "point 200 | 1
Seal accused Winfrey of being a "part of the problem for decades" and added a sarcastic caption that suggested she knew Weinstein was mistreating women but turned a blind eye instead.
"Oh I forgot, that's right…..you'd heard the rumours but you had no idea he was actually serially assaulting young stary-eyed actresses who in turn had no idea what they were getting into," Seal wrote. "My bad."
He also added the hashtag "#SanctimoniousHollywood" to the post.
Weinstein's story spurred on the #MeToo movement, a hashtag on social media encouraging women to tweet and publicize their experiences to expose cases of sexual assault.
Seal was not alone in calling out Winfrey. A day earlier on Tuesday, Jan. 9, comedian Seth MacFarlane cautioned her from running as a presidential candidate in 2020.
"Oprah is beyond doubt a magnificent orator. But the idea of a reality show star running against a talk show host is troublingly dystopian," MacFarlane wrote in a tweet. "We don't want to create a world where dedicated public service careers become undesirable and impractical in the face of raw celebrity."
The tweet garnered widespread attention online, reaching over 260,000 likess and over 59,000 retweets in just two days.
Juanita Broaddrick, a now 75-year-old who has said for decades that former president Bill Clinton raped her in 1978 also went on Twitter to blast Winfrey and her hypocrisy, the Washington Times reports.
"Hey Oprah #Goldenglobes. Funny I've never heard you mention my name. CAN YOU HEAR ME NOW? Guess not. My rapist was/is your friend, Bill Clinton," Broadrick tweeted,
Winfrey is a longtime supporter of the Democratic Party.