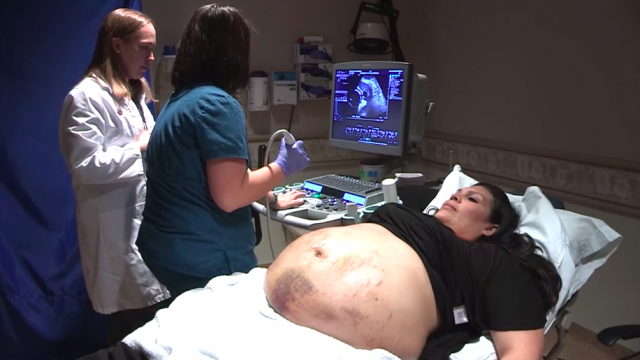 Mom Pregnant With Quintuplets Successfully Gives Birth To Her Babies
When a Utah mom had an ultrasound, she and her husband were surprised with what the doctors told them. The mom was pregnant with quintuplets. Using fertility drugs, the couple had been expecting twins or even triplets, but never quintuplets. It was the first set in the hospital, and everything was managed carefully to ensure the safety of the mom and babies.
Having gone through a hard and long 31 and a half weeks, Guillermina Garcia finally gave birth to five healthy babies via cesarean section at the age of 34, in May 2013.
The pregnancy was seven weeks shorter than most single-birth pregnancies, but about three weeks longer than most moms with quintuplets. It helped the babies to develop better in their mom's womb, according to Dr. Elizabeth O'Brien, of the newborn intensive care unit at the University of Utah Hospital in Salt Lake City.
"They are all doing remarkably well," said Dr. O'Brien.
"I was excited to see them and see that they were OK, that everything turned out normally," said the mom in Spanish.
Guillermina gave birth to the quintuplets with the aid of eight doctors, one anesthesiologist, and dozens of nurses ensuring the mother's safety, and safe delivery of the tiny babies.
"It was not really chaotic. It was really controlled and it was impressive to see how everyone pulled together," said Dr. O'Brien at the press conference.
The five babies, three girls, and two boys, weighing between 2–3 pounds (roughly 907 g–1.4 kg) each, are named Esmeralda, Fatima, Marissa, Fernando, and Jordan. Fernando, the biggest of all, weighed 3 pounds and 14 ounces (about 1.8 kg). Doctors expect all five to grow up completely healthy.
"We feel like we're dreaming," said the dad, Fernando Garcia, from Guanajuato, Mexico, at a news conference. "It's incredible that we have five." The quintuplets also have a sister, Julietta, one year older than them.
Fewer than 10 quintuplet sets are born each year in the United States. In 2010, only 37 babies were born as part of a set of five or more, according to the Centers for Disease Control and Prevention.
Guillermina's doctor, Dr. Tracy Manuck, praised the mom as extraordinary, because she had never complained, despite suffering from high blood pressure and other medical problems during the pregnancy.
When the couple was asked of their plans on how to raise the five babies, Guillermina simply shrugged her shoulders, laughed, and said, "I don't know."
The father, nevertheless, smiled and said, "Now that they're here, we'll find a way. We're through the hardest part."
With all these new additions, this family has just upsized fivefold. Congratulations to the Garcias for their five new bundles of joy.
Watch the video here:
Photo Credit: YouTube Screenshot | UofUHealth.
Source: MailOnline.