Finding bras as a plus size person is difficult.
Finding bralettes — usually soft, strappy, and typically not built for supporting D-cups and above — can seem like an impossibility. If you struggle to find a cute, functional bralette, I hope this list of bralettes for large chests will help you discover your new bra BFF.
Bralettes were little 12-year-old me's introduction to wearing a bra every day, but by the time I purchased my first one, I was already verging on a B-cup. Through most of high school, I wore flimsy white bralettes that barely held my DD chest in place, because I didn't have any other options. I struggled with the same thing many plus size people do: Not just finding a bra that fits and isn't painful, but also finding one that's cute at the same time.
I'll be frank: Walking past racks of multicolored, lace-trimmed bralettes that were designed for A or at most B-cup chests sucked. Even now, when plus size fashion is gaining a real foothold in the industry, it's rough finding a cute and well-made bralette.
Luckily, the internet is a trove of wonders, and there are plenty of plus size bralettes to be found.
Plus Size Spaghetti Strap Cropped Strappy Camisole, $15, Amazon
Not all bralettes on this list will be for juniors, but I had to raise a glass to baby me, and to every other plus size person who struggled as a teen. This uber-classy, strappy bralette offers tons of support with a Nylon/Spandex blend, and it comes in two sizes: 1X/2X and 3X/4X.
This Nylon/Spandex-blend bralette has no underwire, but its elastic straps offer plenty of support. Plus it's ridiculously cute, and comes in sizes up to 6X.
Lined Lace Racerback Bralette, $25, Lovesick
If you like the feel and cut of a delicate bralette but prefer lining, this one's for you. It's also wireless, stretchy, has a sweet racerback, and comes in sizes up to 5X.
Savoir Faire Lace Bralette, $35, hipsandcurves
This gorgeous soft stretch lace bralette comes in in red, white, fuschia (pictured), navy, and plum. It's made for people with C to DD cups, with available sizes up to 44DD.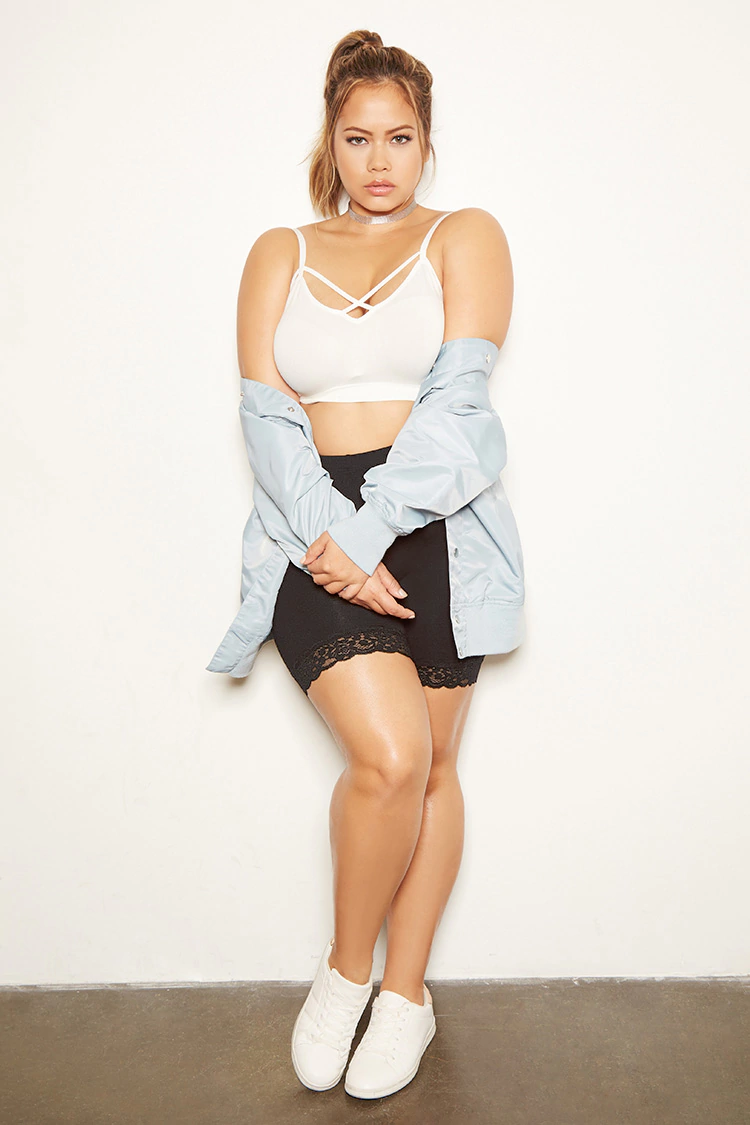 This bra is a serious treat for plus size folks. It looks fantastic at any size, but honestly looks better the more you fill it out. Available in black and white, it comes in sizes up to 3X, and has a cami back to add some support to the cutouts in the front.
Rhonda Shear: Seamless Lace Bralette, $17, Amazon
I'm one of those people who need cups 99 percent of the time, so this bra is perfect for me. It has unlined cups, and actually has a knit-in area between the cups for extra support. No underwire here, but between the cups, elastic chest band, and hardy straps, it's as close as you can get in a bralette.
Two Tone Bralette Set, $52, fullbeauty
I couldn't resist adding this set, because we deserve to sometimes let functionality take a backseat to playful and sexy. You get everything pictured, including the sheer skirt and dual-halter bralette, which comes in sizes up to 2X.
This bra is seriously sturdy. Available in sizes up to 6X, it has no underwires, and like Forever 21's cage bralette, looks even more amazing as you fill out its Nylon/Spandex-blend frame. Plus, the cage straps are to die for.
Lace Bralette—Déesse Collection, $40, Additionelle
This bralette is billed as a crop top, which I can totally see. It's cute, but can also be worn every day, since it's made with a soft, scalloped lace pattern and the straps are fully adjustable.
Lace Bralette With Ruffle, $37, Hipsandcurves
This one's made for cup sizes C to G, and has a practical build good for keeping those of us with bigger chests all buckled up. But it also blends in some flair with that ruffle and bow, adding some much-needed feminine style to a market where plain beige, beige, and more beige is the norm.
Comfy and functional, this snug racerback bralette offers the support of microfiber and a floral pattern to rival all those bras us plus size folks are denied on the regular.
The bras and brands I've recommended here are a great start for hunting up your next favorite plus size bralette. Go forth and be cute!
Images: Courtesy Brands
Please remember to LIKE our Facebook page and SHARE this story with your friends and family!